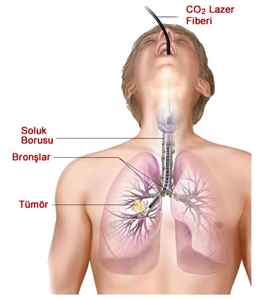 Interaction between laser and the tissue is realted to properties of the laser such as wavelength, power and pulse times. In addition to the properties of the laser, absoption coeffitient of the tissue, penetration depth and such parameters are important. CO2 lasers are highly demanded in industry for steal cutting welding and high-tech applications because of one can access high laser power with a small spot size with a little cooling requirement. The idea using this laser in medical applications also bring the problem together. How to transmit that high power laser into human body to do operations? Therefore, infrared laser fibers which can easily carry the light make CO2 lasers useable in cancer surgery.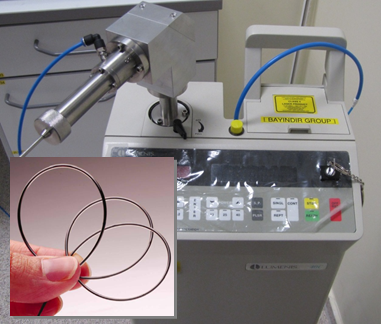 A lancet and other cutting tools is dangerous may cause irreversible tissue damages with unrecoverable harms or the death of the patient. When high power CO2 lasers are used, laser beam can easily remove the harmful tissue without damaging the other cells. However, transportation of high power laser light from source to the human body is a limiting problem.
Since, chemotherapy and radiation therapy considered as  very harmful for health cells and as it is still expensive for patients, CO2 laser surgery is one of  the best way for cancer healing. However, carry of such a high power laser light in human body is a limiting problem. It is possible to use CO2 laser much more effective in human body by infrared photonic band gap fibers. In omni directional reflection of infrared laser light in a flexible fiber, it is possible to use this fiber tool as a medical tool to cut or ablate to malignant tissues from the body without damaging other healthy cells.
Bragg fiber can transmit light through the fiber at very narrow band gap. Facilitating this property as a light filter, Bragg fibers has been used as a artificial nose which works at infrared regime. Chemical detecting of gasses possible using Forier transmission infrared spectroscopy (FTIR). Engineering the band-gap of the fibers according the absorption properties of the gasses make it possible to detect their existence chemically by observing the quench in the transmission of the fiber while the analyte was exposed in the hollow core of the fiber. Detection of gasses such as ethanol, methanol acetone and etc. is possible at ppm level. Recently, we developed conical Bragg fiber for a broad band photonic detection of gasses at very low concentrations.